The team at Zone One Digital decided to "wear the seven colours of rainbow" to mark the Holi celebrations in office. That's not all, they responded wonderfully to a funky dress contest to make the occasion livelier. The winner in the women's category was Arpita from the HR team who wore all the seven colours in her dress and accessories. The winner in the men's category was Siddharth Ghosh from the finance team who had all the seven colours in his formal attire, which was amazing. Other contestants turned up in fancy headgear and other cool accessories that made it an absorbing contest.
Penalty for wearing too few colours
There was also provision for a mock 'penalty' for turning up in too few colours and the 'axe' fell on Venkat from the development team and Tushar from the CAD team. While Tushar had to do a solo dance number, Venkat had to do 20 push ups and both of them performed their tasks with full enthusiasm and energy as team members clapped and encouraged them. Another show stealer was Deeksha from the development team, who volunteered to do a solo dance performance for which she seemed to have been well-prepared. Her performance was very well applauded.
Play safe and eco-friendly Holi with organic colours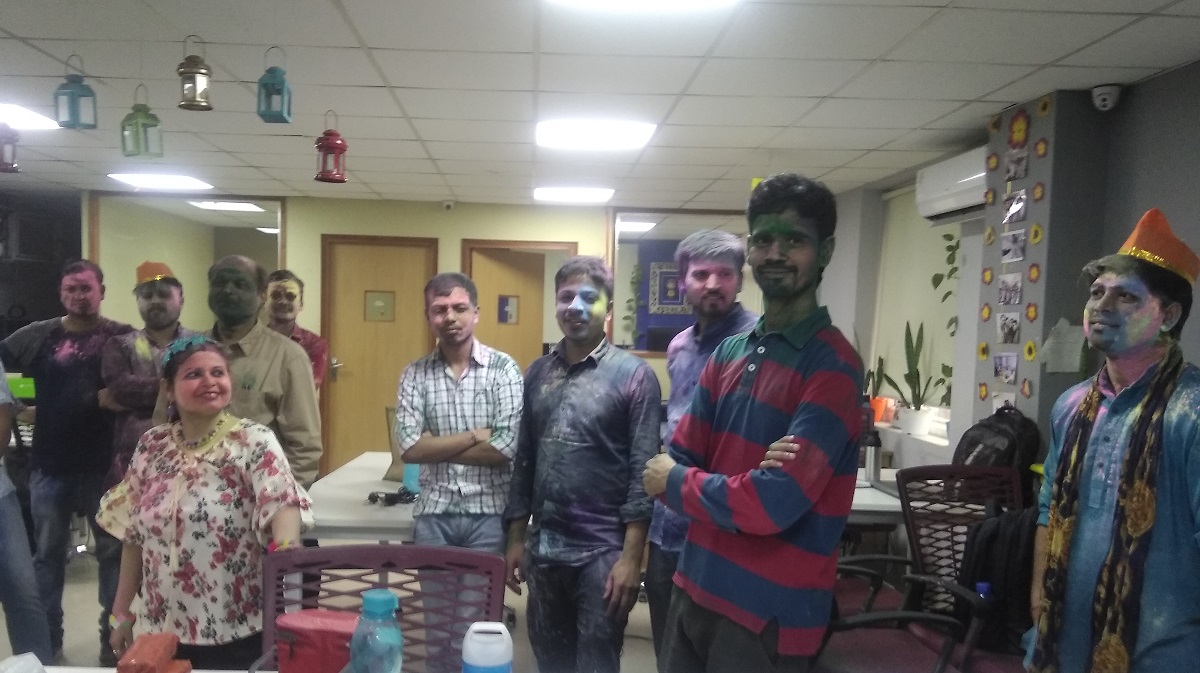 The other notable feature of the Holi celebrations at Zone One Digital was the commitment by every team member to play only with organic colours. Some team members who were eager to use colours that are difficult to wash away and stick to clothes even after a few months, also took responsibility to avoid using chemically-dyed colours. It is also notable that they deliberated on the matter and reasoned against the use of harmful colours during Holi. The festival of colours has now acquired a new meaning at Zone One Digital where every team member is aware of his and her responsibility toward the health and safety of colleagues and co-workers.
The Zone One Digital team not just enjoyed Holi thoroughly with safe and organic colours and avoided using water to play with colours, they also made the festival of colours safer and more environment-friendly. That's the way to keep up the age old tradition of this beautiful festival. At the end of the celebrations, the team was given a wholesome and delicious treat that included the irresistible Holi goonjiyas, crispy chops and kachoris along with refreshing lassi. Every team member also got to carry these delicacies home for their families.