Web Development 

Service
Coding and development are the engines on which any website runs. This complex process merits meticulous planning and a buildstrategy of its own.When done right, it guarantees the success of a seamless user experience conceived in the website design phase.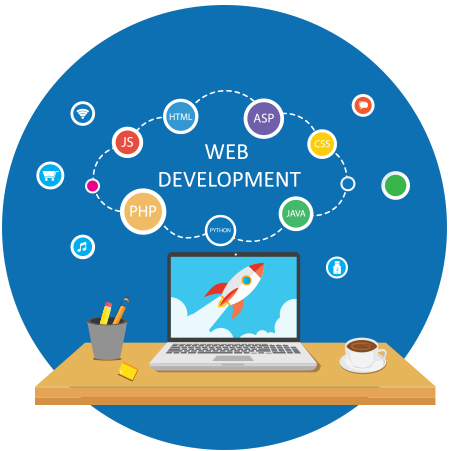 We don't believe in shortcuts
If the page is taking too long to load, or the website is not performing like it should on certain browsers or devices, more often than not it means that the developers have cut corners to meet project deadlines. We, at Zone One Digital, adhere to strict development standards to deliver fast, reliable and SEO-compatible websites.t for the delivered project
The Zone One Digital Promise
Fully-featured and user-friendly websites that exceed expectations
Regular communication for an absolutely transparent development process
State-of-the-art technology architecture and framework
Extensive quality tests throughout the lifecycle of the project
Deployment and maintenance support for the delivered project
Our web development services
From supremely interactive websites that generate leads to e-commerce projects that convert, our expert development team never disappoints.
Front-End Development
The smooth and coherent manner in which way a visitor navigates and interacts with your website is what differentiates a good-looking website from a site that provides an exceptional user experience. Does the page update without the user having to reload it? Do all the buttons react like they should? Are forms appearing at the right places? Are you acknowledging a user's action and giving them feedback? All these require developers who are well-versed with the nuances and techniques of front-end development.
Zone One Digital is expert in:
Fulfilling all the complex requirements of a highly-interactive website
Using minimal, clean and fitting code for a user-friendly experience
Making websites highly optimized for mobile responsiveness
Custom Web Development
Cookie-cutter solutions don't excite our talented developers. We take pride in delivering complex custom requirements with cent percent accuracy. Be it the look and feel of the website or the programming that is used in the back-end, the final product that we will deliver to you would be exceedingly dynamic, functional and interactive.
Zone One Digital is expert in:
E-commerce solutions
Knowledge-based information sites
Portals driven by user-generated content
Sites that require memberships
Web applications
Social media platformapplications
Open Source Development
Since open source software is freely available to all who want to use it, you are protected from huge licensing costs. The only money that you will be spending here would be for the many years of experience and the knowledge of our artistic developers. Not using proprietary code also means that no agency will be able to force you into a retainer program.
Zone One Digital is expert in:
Tailoring open source content management systems like WordPress to your exact needs
Delivering cost-effective development solutions
Customizing projects to the precise requirements of the client
E-commerce Development
So, you are looking to increase your customer base via an online store? We can deliver a solution that will showcase your products in such an attractive manner that the user will feel compelled to buy. For a seamless experience, we will give you an admin panel that can be managed effortlessly and a secure payment gateway for hassle-free transactions. The website delivered to you will be fully-featured and ready to generate revenues.
Zone One Digital is expert in:
Magento, Prestashop, Shopify, 3D Cart, Bigcommerce, Volusion, OSCommerce, Woocommerce, Ubercart, ZenCart, XCart, Opencart, Virtuemart
Web App Frameworks
Exceptional digital projects needcutting-edge technology that is in perfect sync with the design. All the programming frameworks we choose are based on the exact needs of the client. Instead of looking for off-the-shelf solutions, we work on creating a strong architecture that has a huge scope for adaptability and scalability to cater to future demands.
Zone One Digital is expert in:
Laravel PHP Framework, Phalcon PHP Framework, Symfony PHP Framework, CodeIgniter PHP Framework, Zend PHP Framework, .NET MVC Framework, MS Silverlight, MS Sharepoint